Advertising
Choose advertising options that will get your program the most visibility with the prospective families you are targeting. Using multiple opportunities and channels will help maximize exposure to prospective families. You may have to do some research to decide which channels to focus on for your particular target audience. Some options to consider are:
Search ads - these appear when families are searching for options (ie: Google) and include multiple options for continuing to target families while they're researching similar options
Social media - boosted posts and targeted ads
FREE directories - Google My Business, Yahoo Basic Listing, and Bing Places for Business

Event advertising - consider opportunities available at homeschool conferences/school-choice events
Print ads - these are often expensive, but if you have an existing relationship or partnership, you may be able to negotiate better rates; some ideas for placements could be in family magazines, newspapers, and in programs for local youth athletic teams or drama/art schools)
Looking for Inspiration?
Check out our sample banner ads for ideas or feel free to use them on your website or e-newsletters to get the word out about your Edmentum-powered programs.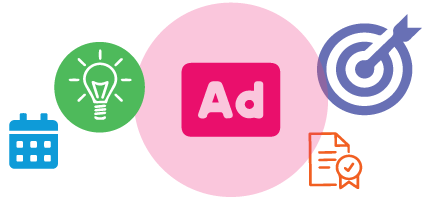 Tips for creating ads
Keep your messages simple. Use headlines/ messages that speak to what families are searching for and that will grab a reader's attention. Focus on key or unique features that your program provides to prospective parents/students. For example:
Tuition-free
Support from certified teachers
24/7 tutor support
For more content ideas to message your program supported by EdOptions or Courseware, see the Web Presence page for resources.
Also, consider these questions: Does your creative imagery reflect your student body demographic?
Does the ad communicate that your program can help them meet their needs and the reasons they should enroll?
Make sure that all ads contain a call to action and provide a way for families to get more information or take the next step and apply.

RESOURCES
Sample Banner Ads
We've created some sample banner ads that you can use for inspiration. You could also use the banners as-is on your website, emails, or newsletter and link them to a page on your school or district's website with more details and application information.